Weaver Metal Shingles provide new life to Wooster Home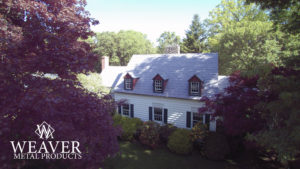 Rory and Natalie Richardson were aware that the roof on their home needed replacement for quite some time, however the process of deciding on the roofing product, was not something that could be done quickly. The Richardson's had purchased the 1920's home several years ago, and at that time Rory know that he wanted to install a metal roof on the home, he did however not want to install something that would make the home look like a barn, or commercial building. After researching for some time it was decided that a metal shingle would be something that would have the life of metal, but would have a different look than what they were seeing around other parts of town.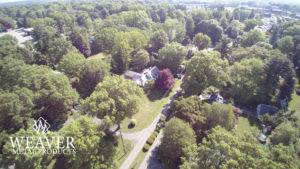 After coming to the Weaver Metals showroom in Holmesville Ohio and seeing the finished product first hand, they were impressed with the look, ease of installation, and the weather tightness of the Weaver Metal Shingles. After some discussion Slate Gray was the color that was chosen and the project was underway. A local contractor that was based in Wooster Ohio provided the installation, and although he had not installed a product like this before, after a few phone conversations with the Weaver Metal staff he was able to install it with ease. The Richardson's also had some Foundry Split Shakes #278 installed on the dormers of the home that added the finishing touch.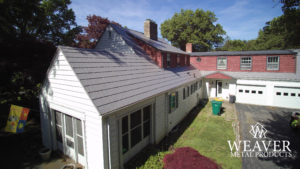 This 1920's home tucked in among the trees in Wooster now has a new lease on life and will not need the roof replaced for many many years. The Kynar paint that is applied to the Weaver Shingles has a 35 year  warranty that does not pro-rate and is transferable to the next homeowner and the Quadro-Loc design of the shingles insures that this roof will stay water and wind proof for even longer. It was a pleasure to work with Rory and Natalie Richardson and congratulations on your beautiful home.