St. Paul Lutheran Church says goodbye to loose Shingles
Owning a building that requires maintenance is nothing new, but when the same issue keeps needing to be addressed
something needs to be done to solve the problem. St. Paul Lutheran Church on lester road in valley city Ohio had a problem with there asphalt shingles blowing loose. Because of where the church building is located, there is high wind in the area, and although the asphalt shingles were only 12 years old, they were not holding up to the storms.
As the search began for a new roofing material that would last, the option of a metal roof became the clear solution, the only question was what type of metal roof to install. Because of the size of the project using a roofing panel with exposed fasteners was not a option, but when a metal shingle was suggested it was decided to look for options that were available in a metal shingle. The Weaver Metal Shingles were chosen because of the Quadro-Lock design, built in nail flange and low price point compared to other shingle options.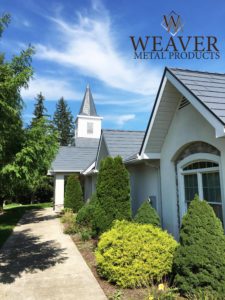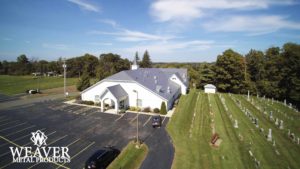 Because the church building had been expanded several times, there were some challenges with the installation of the Weaver Shingles, but the installers from Quick Quality Construction did a great job in removing the existing asphalt, and applying synthetic underlayments before installing the Weaver Shingles. The installation went very well and the finished project looks amazing!! Thanks to everyone that was involved in making the project go smoothly, and Congratulations on a maintenance free metal roof that Will Last a Lifetime!
Worship times are 8:00 am & 10:30 am, Sunday School at 9:15 am