Located several miles north of Akron Canton airport on a quiet street is the Immaculate Heart of Mary Chapel. The Catholic chapel is lead by Leo Carley and has been a foundational part of the community for many years. They also operate a school on the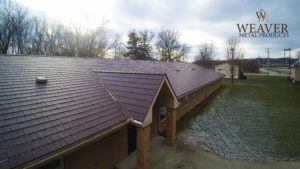 premises and the roofing on the school building had been steadily deteriorating for many years. The roofing on the chapel building had been replaced with a metal shingle a number of years ago, and they knew that they wanted something similar. The problem with the metal shingles on the chapel roof is that they were difficult to install and were not very cost effective.
Liberty Roofing and Construction was tasked with the challenge of locating a metal shingle that was not only beautiful and would last a lifetime, but also one that was cost effective. Frank  Burkhart, the owner of Liberty Roofing contacted Weaver Metals and was impressed with the ease of the install and the Quality of the Weaver Metal Shingle. After discussing all the available options, it was decided to manufacture the Weaver Metal Shingles without the embossed wood grain which gives the shingles more of a Slate look.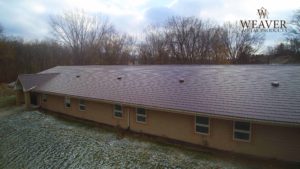 The installation went very well and Liberty Roofing did a great job and finished in record time. In discussing the overall job with Frank after the completion of the project, he once again mentioned how much easier the process is with the Weaver Metal Shingles in comparison to other metal shingles that he has had experience with.  Give Liberty Roofing a call for a free estimate, or visit their website at http://www.libertyroofingohio.com/
It was a privilege to work with the Immaculate Heart of Mary Chapel, and Liberty Roofing and we Congratulate the Chapel on their new Weaver Metal Shingle Roof. You can visit the  Immaculate Heart of Mary Chapel's Facebook page at //www.facebook.com/pages/Immaculate-Heart-of-Mary-Chapel/111522765552913
Address:
Immaculate Heart of Mary Chapel 2935 Chenoweth Rd Akron, OH 44312
Mass times:

   Sunday:
9:00 am
   Monday:
9:00 am
   Tuesday:
9:00 am
   Wednesday:
9:00 am
   Thursday:
9:00 am
   Friday:
9:00 am
   Saturday:
9:00 am